Teaching English to Young Learners (TEYL)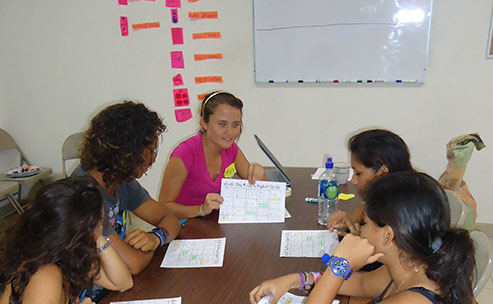 Online 25 hour Teaching English to Young Learners (TEYL) Course
The International Teacher Training Organization is also providing the Teaching English to Young Learners course, also well known as TEYL course.
The art of Teaching English to Young Learners is a specific skill which needs specific training to be performed effectively.
The majority of Teaching English as a Foreign Language courses focus on teaching adults. These results in TEFL certificate holders who would like to teach children finding themselves without the necessary skills and ability to be able to teach Young Learners effectively.
The ITTO TEYL course aims at providing recently graduated EFL teachers or practicing teachers with the necessary skills, confidence and ability to be able to teach Young Learners to maximum effect.
The ITTO TEYL course provides a solid foundation in the methodology behind teaching YL. This foundation is consolidated with a combination of classroom observations and observed teaching practices.
With an ever increasing demand for TEYL certificate holders around the world, completing the course will give you the additional skills and qualification to Teach English to Young Learners anywhere in the world.
The course is open to qualified EFL teachers and those with previous teaching experience but no formal teaching qualification. The course is also open to non native speakers of English who have reached a proficient command of the English language.
Course Features:
Unit 1: Knowing your Students
1.1 The Challenge of Teaching English to Young Learners.
1.2 Learning versus Acquisition.
1.3 Teaching Children versus Teaching Adults.
1.4 Before The Course Begins.
Unit 1 will introduce the main differences between teaching adults and young learners. In addition, language learning theories will be discussed and reviewed.
Unit 2: Knowing the Learning Context
2.1 The learning context.
2.2 Developmental stages and multiple intelligences.
In Unit 2, you will be taught about your specific learning context along with the important role that parents play in Teaching English to Young Learners. Beyond this, developmental learning stages are examined as well as the Multiple Intelligences Theory and how it relates to successful learning in TEYL.
Unit 3: Teaching Resources
3.1 Textbooks and Activities.
3.2 Creating Your Own Materials.
3.3 Adapting Your Own Materials.
3.4 Using Other Resources.
Unit 3 is all about teaching resources in TEYL. You will gain knowledge of how textbooks can be effectively used and adapted for TEYL, as well as how you can create useful materials of your own.
Unit 4: Lesson Planning, Presenting and Practicing a Language
4.1 Lesson Planning Basics.
4.2 What Every Lesson Plan Should Have.
4.3. Lesson Plan Do's and Don'ts.
4.4 Lesson Plan Example.
In Unit 4, the critical aspects of lesson planning, specifically for TEYL, will be discussed and illustrated. In addition, you will discover important key tips to follow when teaching young learners along with common pitfalls to avoid.
Unit 5: Teaching the Skills
5.1 Listening and Speaking.
5.2 Reading and Writing.
5.3 Vocabulary and Grammar.
Unit 5 will prepare you to effectively use different teaching skills on your TEYL classroom. This is where you will discover a wide variety of tried and tested example activities and effective ideas for listening, speaking, reading, writing, vocabulary, and grammar.
Unit 6: Classroom Management
6.1 Classroom Dynamics.
6.2 Useful Tips for the Classroom.
6.3 Socio-Cultural Factors.
6.4 Essential Classroom English.
Unit 6 will present one of the most important areas for success in TEYL: Classroom Management. Here you will gain knowledge of various dynamics and useful tips for successfully managing your young TEYL classes to get you started with confidence. Crucial Socio-cultural factors that require consideration are also explored.
Unit 7: Assessment
7.1 Assessment Guidelines.
7.2 Assessment Techniques.
In Unit 7, you will discover useful assessment guidelines and techniques targeted for young learners. These include tracking progress, reducing anxiety, and setting your TEYL class up for success.
Requirements for taking the course:
Educational Requirements:
Must have a TEFL or TESOL Certificate from an educational institute which requires 120 hours or more of study, plus practice teaching of at least 6 hours.
Have a positive attitude towards team work and experiential learning activities. This includes acknowledging the relevance of these in Teaching English as a Foreign Language and willingness to participate in all course dynamics.
Have a standard of education equivalent to that required for entry into university.
Please note that although it is not compulsory for applicants to possess a University degree to enroll in our program, many foreign countries prefer college-university degrees from their EFL teachers. Candidates to our 4 week program are usually college-university graduates.

Please, if you have any questions about the TEYL course do not hesitate to contact us at worldwide@teflcertificatecourses.com.
*Feel free to share our articles, we only ask for credit! Be sure to mention International Teacher Training Organization as the author and a link back to our website: www.teflcertificatecourses.com.