About ITTO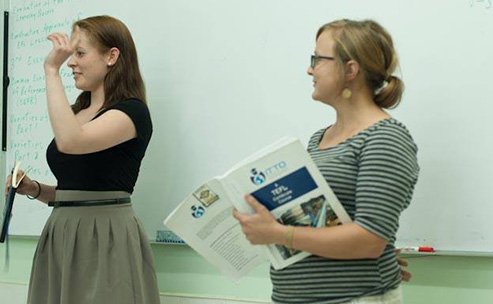 The International Teacher Training Organization is passionate about global education; we believe that travelling to work and study in a foreign country is a valuable experience everyone should undertake.

We are honored to be part of an exclusive educational network with different partner institutions around the world as a result of more than 40 years of experience in the teaching English as a foreign language industry.

We are continuously involved in the TEFL field searching for new ideas to make training as an EFL teacher the best possible. Through us, you will attain invaluable cultural and professional knowledge by immersing yourself in an exceptional 4 week program.

Additionally, our organization strives to accurately educate trainees and to keep motivating graduates throughout their teaching career. Our students come out of this course with not only competence, but also with the confidence they need to be successful. In fact, our graduates are often hired before others in the industry because of ITTO's impeccable reputation.

At ITTO, we believe in making a better world through a global education in which teachers spread the love for learning. In the past decades, we have trained thousands of teachers from around the world in both online and onsite programs, always providing assistance before, during and after getting certified, placing over 4500+ teachers in more than 45 countries!

Pursue your dream of travelling, working and living abroad while encouraging your students to see the world; Join the TEFL community, join us at ITTO!
ITTO also:
Offers 20 locations worldwide
Keeps in touch with other graduates through our Facebook page.
Includes real teaching experience with local students, not volunteers.
Gives you a week of FREE language lessons in Prague or Mexico if you choose to enroll at either country.
Has different promotions (Specials Offers) for all locations!
ITTO uses a communicative approach to train new teachers whose skills meet the specific needs of today's EFL/ESL job market. With our focus on providing exceptional teacher training and ensuring graduates employment, ITTO stands out among other programs.
Apply today! You may also call toll free and fill out your application over the phone. If you have any questions, do not hesitate to contact us.